by Paul O'Donoghue
Luckily the fall wasn't too far, but was enough to end my participation in The Alem Tejo 1000 for 2012. All good cycling should be an adventure I always feel and this one fulfilled that role if not quite in the way hoped for. Although I would normally prefer to ride through the first night of a long randonnee, Randonneurs Portugal recommended that people didn't ride at night as the chances of finding water and a control were virtually non existent in the areas that we would be travelling through. Audax Ecosse had taken a similar approach at the excellent Mille Alba which I had the joy of riding earlier in the year. Besides the organiser always knows best!!
My decision to ride the event was a spontaneous one as having received a few days winter leave in late September  which I wasn't expecting a spot of cycling sounded great before the winter. I had a hazy memory of an earlier email about a 1000k in Portugal being on around this time. I had cycled in Northern Portugal about 15 years before and always fancied going back as the scenery and country had left a favourable impression. While it was great to be spontaneous this also turned out to be a double edged sword resulting in a lack of thought and preparation as to how I was going to approach the ride and more specifically the heat. Not ideal preparation prior to heading  into a potentially hostile climate after a very damp summer in Ireland.
I arrived in Lisbon the day before the ride, to be picked up by Filomena in time for a pre ride briefing from the prime mover Pedro and a chance to meet the other participants. The small group consisted of The Warmies: 4 Italians, 3 Portugese, 1 Spaniard and The Coldies: 1 Russian, 2 AUK's and myself so I wasn't to be the only one from a colder country. The bike went together fine after the flight but the heat didn't lend itself to a good night's sleep, which wasn't helped either by getting up an hour too early unaware that Portugal is on Greenwich Meantime.
The 06.30 depart was from historic Belem where many a previous  voyage of discovery  had set off over the centuries.  A poignant starting point which couldn't be fully      appreciated in darkness.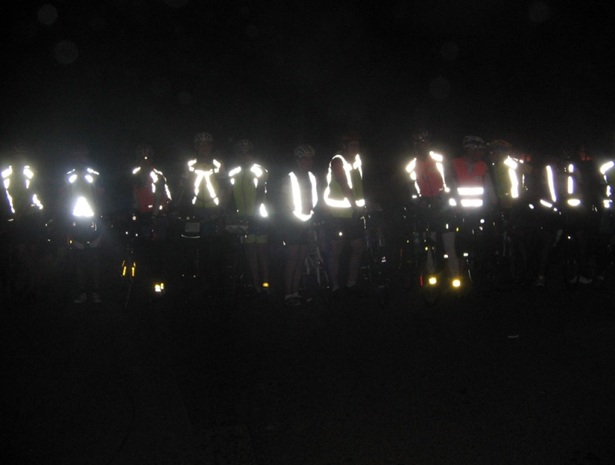 That's me in the reflective jacket
The first few k's were down the banks of the Tagus estuary where we caught the ferry to the far bank. As a monument to the country's marine tradition, we passed several shipyards some of which still seemed to be in operation. It took another hour or so to properly clear the suburban sprawl of Lisbon. Road surfaces were good and Pedro had timed the start to take advantage of a more substantial ferry crossing at Setubal at 50k.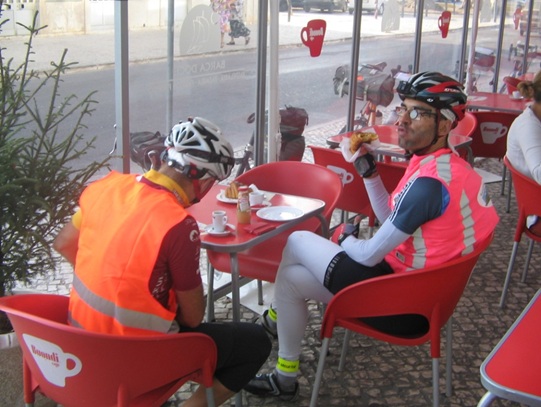 Michelle and  Pedro (organiser) grab a coffee when waiting for the ferry
We alighted onto a spit and the terrain changed rapidly as we passed through an incredibly flat section. It was nice drifting along  through the rice paddies and stork's nest chatting with everyone together after regrouping at the ferry. As my water bottles emptied the terrain got hillier, but I decided to push on as it was only about an hour to the control at Cercal. Irrespective of what anyone else was doing I had decided that I was going to make a decent stop here, it was now around midday and the sun was out for real. The everpresent Filomena greeted us at the cafe control and after a 45 minute break we set off as a fivesome as Michelle and Massimiliano had managed a 10 minute turnaround at the control. This was impressive but I knew that it wasn't for me, given the conditions.
If I didn't drink enough before midday  after lunch  I couldn't get enough to drink, despite this I felt good on the bike and we were moving nicely despite a headwind. Unwilling to make the same mistake as in the morning I needed to refill my bottles about 30k short of the next control so informed my colleagues that I was stopping and they should go on but everyone else stopped. The info control was at Cabo Sao Vincente so we were now at the most south westerly point in mainland Europe.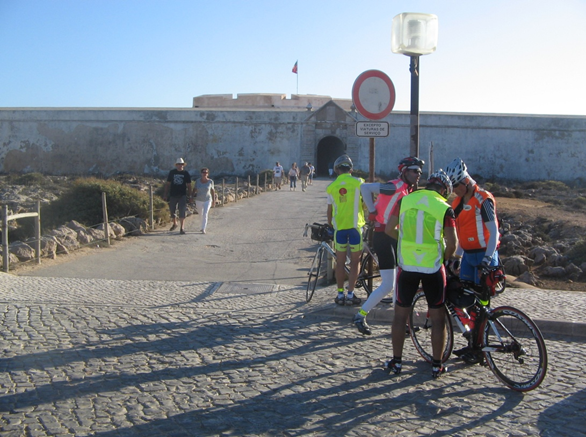 A stones throw from The Atlantic and The Mediteranean
After a stop in a supermarket cafeteria in Sagres, we changed direction to head for the most Southeasterly point in Portugal with the next control at Vila Real de Sto Antonio  overlooking Spain across an estuary. It wasn't long before darkness fell and lighting up time. We were now well and truly in The Algarve and had to negotiate some fairly big towns but traffic was ok as an East /West motorway was taking the bulk of the traffic. Felipe and Paulo had decided to ride at their own rythmn, so I was now riding in the esteemed company of both the president and vice president of Randonneurs Portugal.
It was good to be out of the sun but nightfall hadn't brought any noticeable drop in temperature. The town of Boliqueime was reached around 22.00hrs and it seemed a good place to take 5 and fill the bottles before the last 80k to the night control. Even if the organisers hadn't requested participants not to ride through the night I knew that I needed a few hours to allow my body temperature to readjust and gather my thoughts before the next day.  After a sandwich and cold drink I recall standing up to leave and being overwhelmed by the desire to sleep and wondering how I was going to reach the next control feeling so poorly. This all took place in a few milliseconds and I never got a chance to make any decision as next thing I knew I was on the ground surrounded by smashing plates and glasses. Besides feeling dazed I was fine except for a cut to the forehead which would require a few stitches. This required a trip to hospital by ambulance with Pedro and Albano appearing later as the hospital was on the route. Filomena drove from the night control to pick me up and retrieve the bike from the helpful cafe owner who returned a considerable distance well after midnight to give me back my bike. We reached the night control in time to see the two Italians departing, but I was starting to come around to the realisation that I wouldn't be finishing this one. Given the heat, finishing was never going to be anything but a battle with the sun, I had realised this earlier in the day and in a strange kind of way was looking forward to the challenge. It mightn't have been much fun at the time but if I had of finished it would have been an epic adventure to savour (afterwards).
The bike never left the van for the next two days as I travelled the route with Filomena doing the controls. This gave me a great chance to see the interior of the country but at times it was hard following the route in a van and meeting the other participants when I knew that I should have been cycling with them. It was a bad trip all around for The Coldies: AUKS  Dave and Judith had run out of time about half way through, but had been on the backfoot all along due to illness in the week prior to starting. Alexei had been the victim of Shermer's neck which can't have been pleasant in the heat.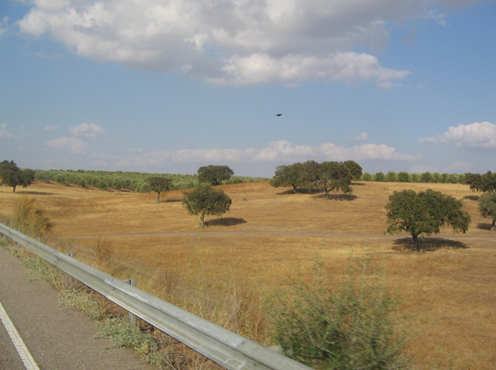 Portugal a land of many cork trees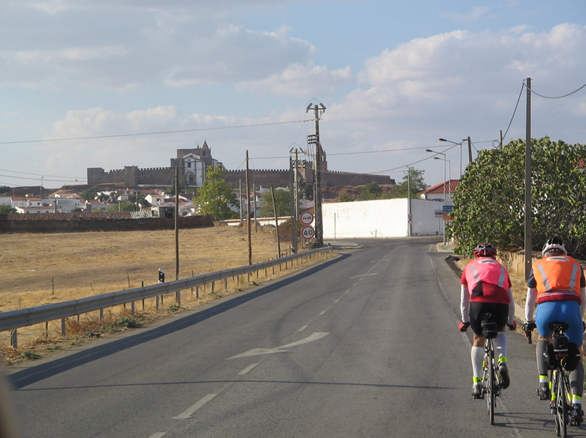 A land of many walled villages
It's never good to have to pack an event, but Portugal has been a very positive experience and ultimately I was a victim of my own poor preparation. It was great to see a small and new country having the energy and positivity to run such an ambitious and well organised 1000k with sleeping facilities and several manned controls. Along with being an adventure a long audax event should capture the essence of the country and The Alem Tejo certainly did that: historic Lisbon, the coastline, the forests, the ancient cobbled villages and a warm welcome. I'll be packing the factor 50 and camelbak for Alem Tejo 2014.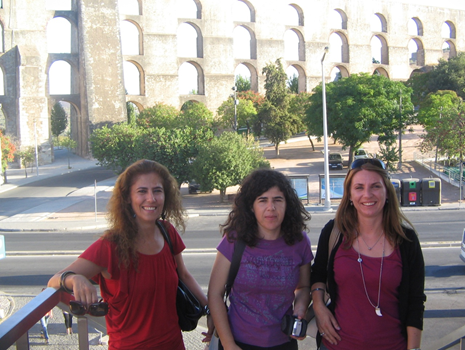 Ana & Clara the smiling controllers at Elvas. Filomena ponders another day in the van with me!
RANDONNEURS PORTUGAL – AGRADECIMENTO
Things I learnt, most of which are straightforward and I knew already but can ultimately be attributed to poor preparation:
– Arriving at an event the day beforehand is never ideal, arriving at one in a hot country is even less ideal,
– Shave beforehand – easier to apply sunscreen especially Factor 50,
– Use total block lipgloss,
– Bring Camelbak for extra liquid carrying capacity,
– Insulated bottles,
– White arm/leg warmers,
– Ride a pace that will allow you to reach a control around 16.00hrs thereby allowing sufficient time for a lengthy break.
HEAT EXHAUSTION (per Ed Burke)
Symptons- feeling of illness,
nauseousness,
muscle cramps,
dizziness on standing up quickly.
Treatment- should feel better after resting and cooling off.