Finish for 2023 will be O'Briens Circle K / Centra in Mullingar.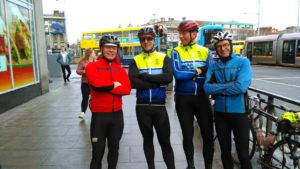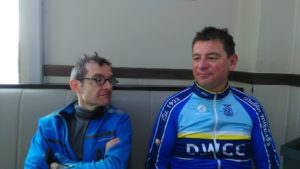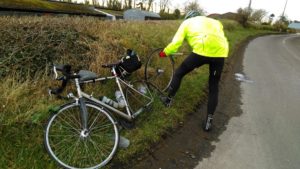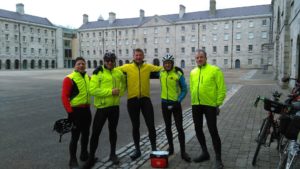 Date: Easter Weekend, Friday 7th April 2023 (Good Friday)
Organiser: Niall Diamond (Audax Ireland)
Phone: 087 9857894
Contact Address: 17 Sandyford Road, Dundrum, Dublin 16
E-Mail: nialldiamond1@gmail.com
Start Time/Date: 10:00am Good Friday, 7th April
Entry Fee: €5 per person.
FINISH – O'Briens Circle K/Centra Filling Station/Cafe, Lynn Road, Mullingar, N91 X0PR
Entry on Eventmaster: https://eventmaster.ie/event/q32VfP7SQq
All entries must be made on Eventmaster only.  Each rider must enter seperately. A Team Name will be requested on Eventmaster to assist with Event Admin. Cycling Ireland Licence is required.  One-day Licence is available for €20 if required, this will be charged automatically on Eventmaster if you do not provide a valid current Cycling Ireland Licence Number.
Closing Date: Friday 31st March 2023
The Easter Flèche is unique in Audax terms in that it is ridden as a team event, and each team devises its own route. It is a 24-hour ride with the standard minimum Audax pace limit of 15kph, giving a minimum distance of 360km in the 24 hours. It is modelled on the Flèche Vélocio, and is administered by Audax Club Parisien. Traditionally they take place over the Easter weekend, except in far northern countries where there is likely to still be snow on the ground at that time of year. Traditionally also, the routes of the Flèche in a given country or region meet at a common finishing point, the Flèches (Arrows) aiming at a single target. 2010 saw the inaugural running of the Flèche in Ireland, with Dublin as the finishing point. Other Finish points have been in Cork, Galway, Mullingar, Derry and DunLaoghaire.
The rules of the Flèche:
1. Teams consist of 3 to 5 bikes (i.e. tandems count as one member of a team).
2. If more than one team wishes to start from the same location, AND ride the same route, their start times must be staggered by a minimum of one hour.
3. The minimum distance is 360km, measured as the shortest distance by road (excluding motorways) between the specified control points. The route should ideally be point-to-point. A loop is acceptable but an out-and-back route is not. No segment of road may be used more than once travelling in the same direction.
4. Each team member should carry their own brevet card.  Time and distance should be noted on the card at each control point, and proof of passage obtained (e.g. shop or ATM receipt with date, location and time, stamp from a garda station etc).  Photos or Video Clips of at least 3 team members at a landmark/signpost will be acceptable for late night/early morning Controls.  At the end of the 22nd and 24th hours of the ride, proof of passage must be obtained and the location and time noted on the card.   At least 25km must be travelled between hours 22 and 24.  During the ride the team may not stop at any location for more than two hours.
5. Teams may not receive assistance from anyone else except in the event of medical emergency, and team members may only draft behind members of their own team.
6. In the event of road closure or similar unforeseen circumstance detours are permissible but proof of passage must be obtained at the furthest point of the detour.
7. A minimum of three members of the team must finish the ride together and declare the same distance for the Flèche to be validated. The Flèche will not be validated if the actual distance ridden exceeds the distance specified in the proposed route by more than 15%, or is more than 20% shorter than planned, or if the distance ridden is less than the minimum of 360kms. Team members who do not manage to complete at least 80% of their planned ride and exceed 360km will be deemed as non-finishers.
It seems complex but essentially involves devising a route that's comfortably more than 360km, including control points at appropriate locations, and submitting it to Niall for approval (he may suggest revisions, additional control points etc) along with a proposed start time. On the ride, note time, distance and location at each control point, and at 22 and 24 hours, and obtain proof of passage at these points. At least 3 riders must finish the Flèche together. Note that you do not have to complete the entire route submitted, just as much of it as you can manage in 24 hours (within the bounds of rule 7 above).
All teams are expected to make a bona fide attempt to get to the official Finish.
---