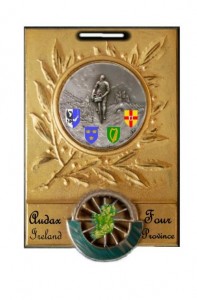 Ride at least one Calendar event starting in each of the four Provinces of Ireland in a Calendar year and you'll be a 4 Provinces Randonneur.
Submit your claim to Senan (senanburke@hotmail.com), listing the events and dates for validation.
The optional 4 Provinces Medal costs €11 including postage, which can be paid to paypal@audaxireland.org, or sent by post to Niall Diamond, 17 Sandyford Road, Dundrum, Dublin D16 H2A2.
---