As you probably know by now Audax Ireland Medals are available in 200km, 300km, 400km and 600km, priced at €5 each. The Medals are all the same, with the distance engraved on the back.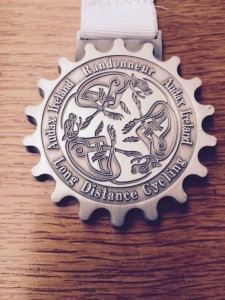 We also have our RRTY and 4 Provinces Medals available, price is €10 each (due to smaller quantities, and gold finish).
In an ideal world, organisers would get a stock of Audax Ireland Medals for their event, and offer them to riders at the finish. However as the organisers are often not present at the finish this is not always possible.
Therefore anyone who wants any Audax Ireland Medals can order from me at ndiamond@eircom.net and I will post them out. You need to specify what event/s they are for, and I will verify the rides before sending.
Postage is extra, a small jiffy bag with up to 3 Medals will cost €3.50.
Payment can be made by Paypal to paypal@audaxireland.org – make sure you say who they are for, specify the events, and include your postal address.  As usual, select payments to family/friends, and make sure you pay any Paypal charges.
Any queries to ndiamond@eircom.net and I will be happy to help.
ACP Medals
ACP Event medals continue to be available for €5, they should be ordered from, and paid to, event organisers in the usual way.
Paul O'Donoghue looks after the ACP Super Randonneur Medals, which cost €6 and should be paid by Paypal to podluna@gmail.com
If you ordered and paid for an SR medal with your PBP entry you don't need to do anything else.
If you are not on Paypal, please contact the relevant person above and confirm alternative methods of payment.
Cheers, Niall.