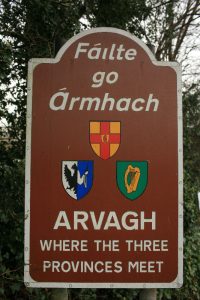 Date: Saturday 3rd August 2019
Closing Date for Entries: 26th July 2019
Difficulty/Climbing (from * to *****) ***
This is a challenging event starting in Slane, heading N.W. through Longford, Leitrim and turning back through Fermanagh and Cavan.
Most of this route is through quiet rolling countryside. The last 100k is through drumlin landscape which requires steady pacing.
As part of this route goes through Northern Ireland, you should take some sterling.
Organiser: Eddie Dunne epphoto2003@yahoo.com
Contact details: 51 Danesfort, Castle Ave, Clontarf, Dublin 3
Phone: 085 1740456
How to Enter
Download Entry Form here New Entry Forms and e-mail to the organiser Eddie Dunne at above address.
Entry Fee €6
Optional ACP or Audax Ireland Medal €7
1-day Licence if required €5
Payment Details:
Please include Entry Fee, Medal Fee (Optional) and 1-day Licence Fee, if required.
By PayPal to paypal@audaxireland.org
Or by cheque/PO/post (payable to Audax Ireland) to Andreas Voigt, 12 Brookville Park, Malahide Road, Artane, Dublin 5, D05 F6T2.
Whether by post or PayPal, please make sure to include your name, and which event you are entering with your payment !
Snail Mail: Download Entry Form here New Entry Forms and post to Eddie Dunne, 51 Danesfort, Castle Avenue, Clontarf, Dublin 3.
Other Details
CI/IVCA license required. A one-day CI license available at start for €5.00 if required
Start Point: The crossroads in Slane, Co Meath
There is free parking available in Slane village, especially Navan direction.
Start Time: 6:00am
Facilities: None, this is a self-supported event. Please read this page for more details on what self-supported means !
Route Map 2019 https://ridewithgps.com/routes/30661925
Lights are mandatory for this event, as for all Audax Ireland events over 200km.
Accomodation
Slane Farm Hostel & Cottages
Phone: 041 9884985
---