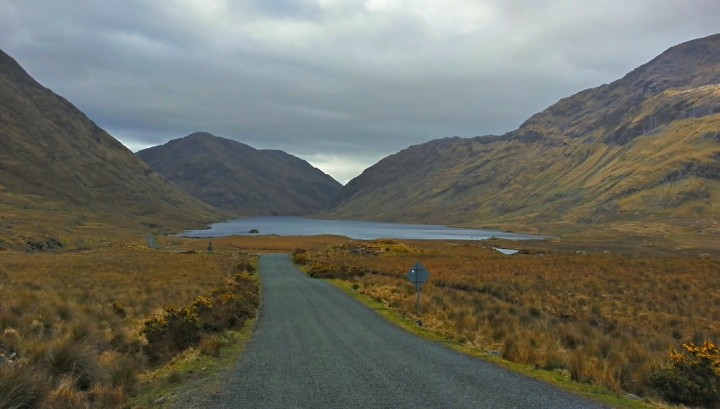 Date: Thursday 25th April 2019 (part of "Super Randonneur in a week" series)
IMPORTANT NOTE: START MOVED TO BALLINA IN 2019 !!
Difficulty/Climbing (from * to *****)    ***
The Quiet Man 300 features the best scenery in the West of Ireland, featuring a large section of the Wild Atlantic Way. The route is not hilly, and regular Audaxers would even call it flat. However, this far west, the weather can be severe. On a good day it is an easy 300 – on a bad day it is a tough one.
Organiser: Seamus O'Dowd
Phone: 085 1740747
Route
Starting and finishing at the Cathedral in Ballina this year, as part of the "SR in a week" series, the route takes in the Ceide Fields, Ballycroy National Park, Westport, Delphi Valley, Killary Harbour (where you might spot dolphins) and north Connemara. The "Plains of Mayo" are dramatically different and the landscape varies between lush and boggy on the way to Cong, where you might take a minute for a selfie with Maureen and John.
On the way home, with a bit of luck you'll see the sun set behind Nephin, before returning in time for a meal and a pint in Ballina.
Route Map: Quiet Man 300 Map
How to Enter
Entry Fee €6
Optional ACP or Audax Ireland Medal €7
1-day Licence if required €5
Payment Details:
Please include Entry Fee, Medal Fee (Optional) and 1-day Licence Fee, if required.
By PayPal to paypal@audaxireland.org
Or by cheque/PO/post (payable to Audax Ireland) to Andreas Voigt, 12 Brookville Park, Malahide Road, Artane, Dublin 5, D05 F6T2.
Whether by post or PayPal, please make sure to include your name, and which event you are entering with your payment !
Download Entry Form and either:
Fill in the form and send to jamesodowd@eircom.net OR
Print, complete and scan the form and send to above e-mail.
Other Details
CI Licence required. A one-day Licence is available at Start for €5.00 if required.
Start Point: The Octagon, Westport, Co Mayo.
Start Time: 6:00am
Facilities
This will be a self-supported event, which means that there are unlikely to be any manned controls, and definitely no support vehicle. However, there are plenty of options for refueling en route. Please read this page for more details on what to expect on a self-supported event.
Lights are mandatory for this event, and for all Audax Ireland events over 200km.
Accommodation in Westport
http://destinationwestport.com/places-to-stay/
http://www.discoverireland.ie/Places-To-Go/Westport
---