Date: NOT scheduled in 2024
Closing Date:
Organiser: Mike Law
Address: 11, The Crescent, Rockfield, Church Road, Blackrock, Cork.
Entry Fee: €5, plus fees.
Eventmaster Link: https://eventmaster.ie/event/Jv3RipvHRk
All entries must be made on Eventmaster only.  Cycling Ireland Licence is required.  One-day Licence is available for €10 if required, this will be charged automatically on Eventmaster if you do not provide a valid current Cycling Ireland Licence Number.
Start location : West End, Ballincollig, Co. Cork
Difficulty/Climbing (from * to *****) *** to ****
  Map – Please note – The route is somewhat different from that used to date  for the Permanent.  
This route is based loosely on that taken by General Michael Collins on the day of his death in 1922. "Loosely" – partly because much of his route was out-and-back along the same sections of road and partly because no-one really knows exactly which way they went due to many roadblocks in the area.
Starting in Ballincollig, the route takes riders out towards Macroom closely following the North side of the River Lee. On reaching Macroom, the route crosses the river and passes the edge of the Gearagh, a submerged glacial woodland. riders will then head for Killmurry, passing the former IRA hospital in De La Cour Villa, visited by Collins that day. On reaching the outskirts of the village of Killmurry, riders will have to deal with a short steep hill. This incline also created difficulties for Collin's convoy in 1922, with troops having to get out of their tender car and push the four tonne "Sliabh na mBan" armoured car up the slope.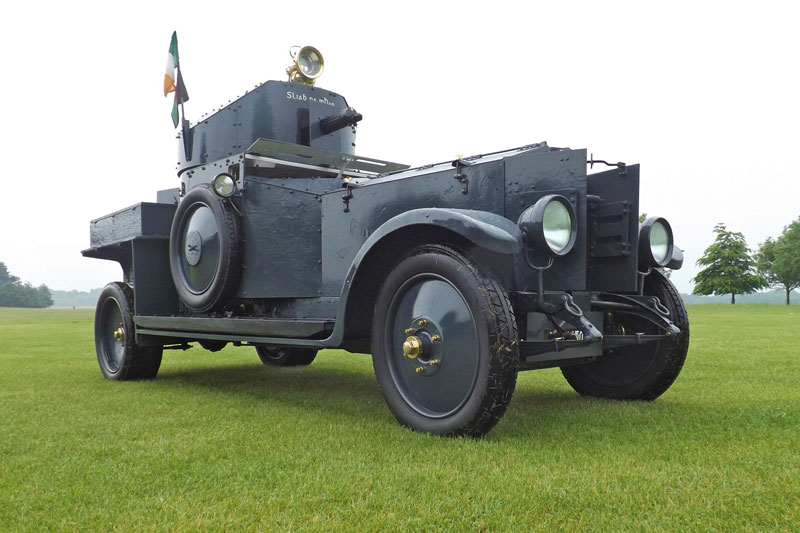 The route then runs cross-country, passing through Newcestown (where Collins' car was briefly separated from the convoy).
At this point, the route starts deviating from the original Collins route and heads West towards Enniskeane before swinging South-West though Drinagh and onto Skibbereen. On reaching Skibbereen, riders will pass through the town centre and the Eldon Hotel before leaing  to the South of the N71, passing through the fishing village of Union Hall, followed by the yachting village of Glandore. After passing through Rosscarbery, riders will then reach Collin's birthplace, Sams Cross and the "Four Alls" pub, owned at the time by Collins' cousin.
After Sams Cross, come Lisavaird (where Collins attended the small primary school, now part of the local garage) , Clonakilty (and the Michael Collin's House museum) and Ballinascarthy before riders  reach Bandon and start the climb North towards Beal na Blath and the ambush site which is marked by a large cross on the right hand side of the road.
Collins died at the scene and his body was brought back to Cork via the small villages of Cloughduv and Aherla – riders will pass through the same villages before eventually reaching Ballincollig and the finish.
Prospective participants should note that the route is quite difficult, given the undulating nature of the west Cork countryside, and the total climbing feels like significantly more than the 2100m
---